Second Mailing of Membership Cards will be mailed Monday, December 11th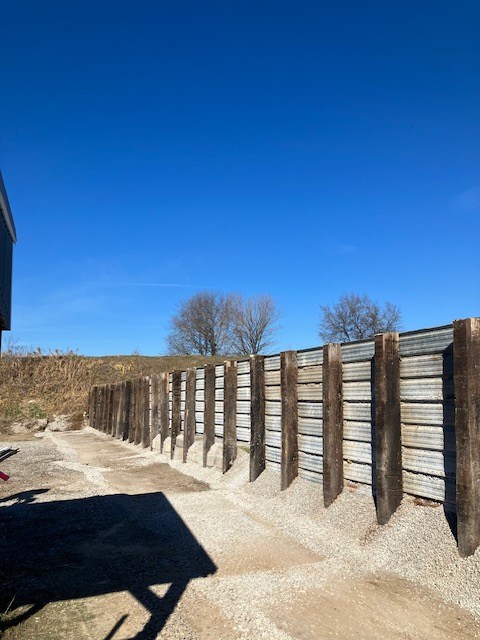 SATURDAY, DECEMBER 9TH
25 YD BAY WALL DEMO/REBUILD
Saturday Dec 09 will be the first weekend work party to demo/replace bay walls on 25-1 and 25-2.  Members who wish to give back a little of their time to the Club, this is your opportunity.  Start time is 9 AM with expected put away time around 3 PM. A handful on volunteers have the metal wall between 25-1 & -2 skinned down to the railroad tie uprights on one side.  Saturday's project goal will be to get the metal from side 2 removed, as well as work on installing wood on that same wall.  We will not get to gravel filling the rebuilt wall.
Volunteers will need gloves and sturdy clothing, There will be things for all volunteers of any skill level/ability to do.  Other things to bring, if you have it, would include tape measure, impact driver, drill motor (battery or corded), circular saw, ladder, and other tools suitable for wall building.  The walls built will be like current wooden walls already up on the western end of the 25 yd bays.  There will be lots of measured saw cuts and lots of 4" and 6" lag screws to attach.  Mark your tools and batteries with a Sharpie or similar.
Members may shoot on 25 yd bays 25-4 & 5 with lower report firearms.  They will be hand carry access only, as road along bays will be closed by demo/construction activity.  If using the 50 yd range, please limit your use to the eastern part of it.
Work party will be provided bottled water and snack bars. 
Since the previous wooden walls on Bays 25-4 and -5 are holding up well, the wooden wall project for 25-1 and -2 is modeled along the same lines.  Those that helped with that previous project are especially welcome to come show your skills gained from that previous experience.
Jack Ostendorf
VOTE NOW FOR THE 2024 DIRECTORS
POLLS CLOSE AT 7PM DECEMBER 11TH
GO TO THE BALLOT MENU TO VOTE

THE PENALTY PHASE HAS BEGAN. ANY DUES SUBMITTED WITHOUT THE $75 LATE FEE WILL BE RETURNED.
THE LATEST PAID LIST IS NOW POSTED ON THE FIRST SHOT.
THE PAID LIST DATED 11/11/23 INDICATES MEMBERSHIP CARDS THAT WILL GO OUT IN THE FIRST MAILING. SEE THE TARGET FOR THE MAILING SCHEDULE. WANT YOUR CARD SOONER, GET YOUR DUES PAID ON TIME.